The Use of ESWT for Foot and Other Joint Pains
ESWT or Extracorporeal Shock Wave Therapy is a newer treatment alternative for heel pain, foot pain, and various types of joint pain. In the U.S., this medical device is approved by the FDA for treating tennis elbow and foot pain due to plantar fasciitis. Read more...

Heel Pain
Heel pain is probably one of the most common foot problems affecting adults of all ages.The heel is the first part that makes contact when walking, it is not surprising that the heel sustain undue stress.
Read more...
Pain at the Back of the Foot
The largest and toughest tendon in the body is the Achilles tendon. It is one of the structures that help us balance. It is vital for walking and running. When running, the tendon can store energy and can work like a spring. This springing action can increase running speeds without
...
Read more...
Heel Pain and The Two Common Causes
Heel pain is a very common problem in people of all ages. It is a general complaint that can be caused by a variety of conditions. When treating heel pain, it is necessary to know the specific cause of the pain. This would make it possible to apply a treatment method appropriate for....
Read more...
Plantar Fasciitis and Heel Pain
Heel pain is a very common problem with many possible causes. Though it can be due to a systemic disease such as arthritis which can affect any joint in the body, there are a lot more conditions that can affect the foot locally. For this reason, it is essential to get the correct....
Read more...
Achilles Tendinitis and Posterior Heel Pain
Posterior heel pain or pain at the back of the heel can be due to a variety of factors. Probably the most common cause of back heel pain is Achilles tendinitis.
Read more...
R.I.C.E. Method for Heel Pain Management
Activities especially sports are a lot of fun. Also, getting involved in these activities is good for your health. But in any sport, accidents can happen and can cause all kinds of injuries. The foot is especially prone to these injuries. Sprains can cause mild to severe heel pain or foot pain.
Read more...
Basic Treatment for Achilles Tendonitis
Heel pain can be caused by various foot conditions. One of the most common causes of heel pain is Achilles tendonitis, which is due to inflammation of the Achilles tendon. This tendon is found behind the ankle and thus causes pain behind the heels when injured.
Read more...
Tarsal Tunnel Syndrome
Tarsal tunnel syndrome is condition where the posterior tibial nerve in the ankle is compressed, causing foot or heel pain. In many ways, this condition is analogous to carpal tunnel in the hand where the median nerve is compressed.
Read more...
Pain Due to Flat Foot
A third of the general population never develop the arch of the foot, therefore having a condition called flat foot. This could be unilateral which affects one foot or bilateral which affects both feet.
Read more...
Ankle Arthritis - What Is It?

Arthritis is a general term meaning joint inflammation. This can cause pain and stiffness. With age, the chances of developing arthritis increases. The natural wear and tear occurs and ankle arthritis can be debilitating.
Read more...
Painful Neuromas of The Foot
Neuromas are tumors or new tissue growth that contain nerve fibers and neurons. These growths usually occur around nerve tissues and can occur anywhere in the body. The most common type of neuroma on the foot is called Morton's neuroma.
Read more....
Common Misconceptions About Foot Surgery
Myth Buster #1. "I have always been told Never to have foot surgery because it is Incredibly painful, and the recovery is awful....Is this True??"
Read more...
What is Arthritis?
Arthritis is a condition that commonly affects the elderly and can involve almost any joint in the body. The main symptom associated with arthritis is pain, which can be acute or chronic. Read more....


Non Surgical Treatment of Heel Pain
Among the common reasons behind heel pain are heel spurs, plantar fasciitis, and Achilles tendonitis. There are certain activities that should be avoided or minimized because they can put undue strain on the feet. These include jumping, running, walking long distances, walking up or down hills, ...
Read more...
Protect Your Child from Sports Injuries
Kids love activities, it's part of their development. Encouraging you child to get involved in sports will help boost their confidence and physical strength. Sadly, there are times that your child will get hurt or get injured, it's all part of the game, but there are things that you can do to prevent this from happening.
Read more...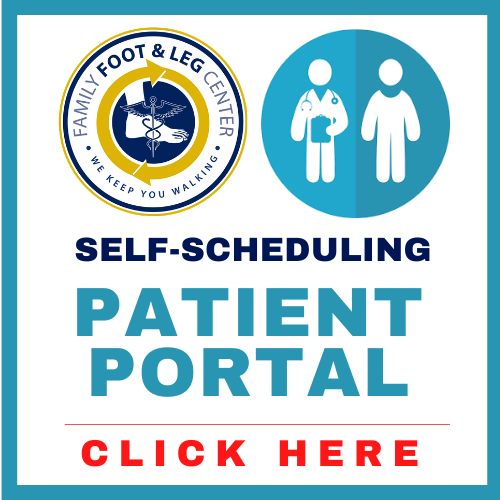 Call Today: (239) 430 3668 (FOOT)
Self Service # (239) 420-7170
Fax: (239) 692 9436
Serving Southwest Florida Since 2005, Family Foot & Leg Center has 9 convenient locations throughout Collier, Lee, Charlotte, and Sarasota Counties.
Offering pediatric to geriatric family care: Ingrown Toenails, Heel Pain, Bunions, Foot / Ankle Arthritis Pain, Plantar Fasciitis, Foot / Ankle Surgery, Custom Orthotics, and Diabetic Wound Care. In office X-rays, ultrasounds, and minor surgical suite exam rooms. Practice powered by EMR and advanced technologies.
Come Discover Why Patients Love Our 5-Star Foot & Ankle Care!
Same Day Appointments! Easy Online Appointment Scheduling!