Welcome to Naples Heel Pain Center
Your Heel Pain Experts
Essentials of Pediatric Heel Pain explained and why it is different from adult heel pain.
Things you want to know about Adult Heel Pain
About Us
Group of top podiatric physicians and surgeons treating heel pain effectively, efficiently in Naples, FL.
Whether as first , second or third opinion, we will be be your last stop for heel pain. Stop dealing with heel pain and start feeling better Now.
9 convenient locations throughout Collier, Lee, Charlotte, and Sarasota Counties.
DOWNTOWN NAPLES - Brennan Bldg, 730 Goodlette Rd, Suite 102
SE NAPLES - Mustang Center, 12250 Tamiami East, Suite 101, Naples FL
NORTH NAPLES - 840 111 Ave. North, Suite#3, Naples FL
ESTERO - Natoli Plaza, 21401 Corkscrew Village Lane, Suite 4
CAPE CORAL - 530 S.E. 16th Place, Suite A
FT MYERS INTERNATIONAL BLVD - 6846 International Center Blvd. Suite B
FT MYERS COLONIAL BLVD - 1645 Colonial Blvd
PORT CHARLOTTE - 3161 Harbor Blvd Suite B
SARASOTA - 3110 Fruitville Commons Blvd Suite 102
We welcome you as a patient to our podiatry practice.

Serving Southwest Florida Since 2005, Family Foot & Leg Center has 9 convenient locations throughout Collier, Lee, Charlotte, and Sarasota Counties.

Offering pediatric to geriatric family care: Ingrown Toenails, Heel Pain, Bunions, Foot / Ankle Arthritis Pain, Plantar Fasciitis, Foot / Ankle Surgery, Custom Orthotics, and Diabetic Wound Care. In office X-rays, ultrasounds, and minor surgical suite exam rooms. Practice powered by EMR and advanced technologies. Home of the Lam Minimal Invasive No-Scar Bunion Surgery!

Come Discover Why Patients Love Our 5-Star Foot & Ankle Care! Same Day Appointments! Easy Online Appointment Scheduling!
We want you to feel comfortable in our modern, efficient office. Please do not hesitate to discuss areas of concern. Everyone in this office is a trained professional and works as a team member, taking pride in their work.
We provide genuine compassion and experience in the care of your heel pain.


What is Heel Pain?
Heel pain is a very common condition that plagues the young and old. It is estimated that 1 in 10 people will have at least one episode of heel pain at some point in their life.

Our mission is to help you and your family enjoy the gift of walking without the discomfort of pain.


Services
Ready to enjoy better foot health? When other doctors give up, we have options.
Drop by anytime to see our facilities and learn more about our specialized services - you can contact us here.

9 convenient locations throughout Collier, Lee, Charlotte, and Sarasota Counties

Now accepting new patients, our doctors look forward to meeting you.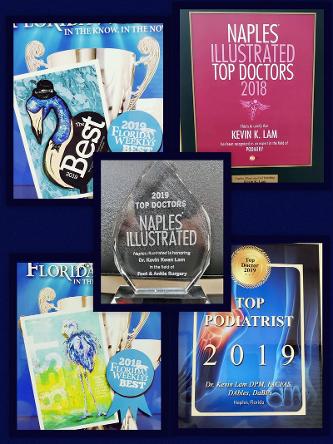 Patient testimonial of a first metatarsal phalangeal joint Fusion often people are concerned that diffusion will decrease the activity this proves otherwise. This is still the gold standard for 1st metatarsal phalangeal joint pain though implants are available for this condition patient and procedure selection is the art of Medicine.
Heel Pain: Answers and Options
Why does my heel hurt?
90 % of our patients will NOT require surgery for plantar fasciitis, and if it is required, we can perform a minimally invasive procedure on site to alleviate heel pain in most cases.
We also feature another excellent nonsurgical modality called
Extracorporeal Shock Wave Therapy (ESWT)
which is well documented in sports medicine to reduce inflammation and pain without a single incision. This is the same modality used by the NBA , MLB and NFL for their athletes.
Talking about Plantar Fasciitis. Most common problem seen in the podiatrist office. https://www.naplespodiatrist.com/
Stretching is essential to your healing this ailment. Conservative care can handle a majority of heel pain. The quicker and more diligent you are with these the quicker your path to healing will be. Dr. Kevin Lam of Naples, FL and assistants showing the essential stretches for heel pain.

"The shockwave therapy procedure was quick and easy. The results were more than I could have hoped for. My relief from heel pain was so quick I was running short distances within a few weeks, long distances within three months. Thanks ESWT -- finally free from chronic heel pain!"
-- George F., Naples, FL

"For years, I have been living with heel pain because of plantar fasciitis. I have gone through the conventional treatments but to no avail. I decided to try shock wave therapy for heel pain. To my surprise, this noninvasive and painless procedure finally provided pain relief. If you have been suffering from chronic heel pain, I urge you to give ESWT a try, it's worth it!" -
- Martha G., 63y.o., Naples, FL

THANK YOU, THANK YOU, THANK YOU!
My foot is wonderful and my husband and I danced for 2 hours solid rock and roll at my 50th HS reunion this past Saturday night. No pain, no limping the next day!
We are in lovely and cooler Vermont and thinking of you and my now dancable foot.
My brother Gary says hi. He also knows about foot pain and the joy of being fixed by your skilled hands.
See you at my next appointment.
-- Elaine, Sarasota

Very Grateful for Dr. Kevin Lam for taking the nail biopsy, what I thought was just a discolored, ugly nail turned out to be a malenoma, currently undergoing treatment at our regional cancer center. Dr. Lam saved me life,
I can't say enough good things about him, he made feel comfortable and confident in his care. My family and I both appreciate his prompt attention getting the necessary test to save my life.My understanding that these cancers under the nail are deadly if caught late or not caught at all. -- M.T.
Call us now for more information about
shock wave therapy ESWT for heel pain
(239) 430-3668 (FOOT)
Self Service # (239) 420-7170
Fax: (239) 692-9436