Managing Pain in the Big Toe

It seems like every year, we encounter numerous patients who have lingering pain and difficulty walking which can be due to the joint of the great toe.

Other patients think that only bunions are the cause of this pain, but that is only part of the story. A number of studies in recent years show the natural progression of arthritis in toe joints which do not seem to have any bunion characteristics, such as prominent bone on the inside of the foot and deviation of the great toe towards the lesser toes, and this can be related in most cases to a distant trauma which occurred long time ago.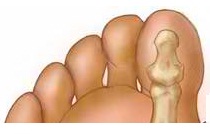 There are several pain management modalities to provide nonsurgical relief in this area, ranging from orthotics and cortisone injections, to the new Cold LASER therapy for recurrent pain which can reduce symptoms in chronic pain of arthritis significantly without medications.
Something as trivial as stubbing your toe, or landing abruptly and resultant pain in the bottom of the joint that seems to go away, may eventually return later on as a limitation in joint motion, and pain in the foot which is related to the adaptive and erosive side effects from "hallux rigidus". This is quite prevalent after age 50 and can affect men and women. It can also be a major source of a significant amount of discomfort and limitation while walking.
At The Family Foot and Leg Center, we offer numerous conventional and proven treatment protocols for our patients to give you the best chance at pain free ambulation. If you have arthritic changes seen on a regular x-ray, and the deformity is not too severe, you may even qualify for the latest implant arthroplasty technique known as "joint resurfacing". This is a relatively advanced joint replacement which allows patients to walk immediately after the surgery. Another good thing about it is that there are no weight bearing restrictions with a very high success rate both in the short term and long term.
It is not for everyone though, but for those who are, you will feel instant relief. After several weeks post-operatively, your range of motion should be close to the other foot. In most cases, significantly increased from before the procedure is done. This procedure is offered as an outpatient basis, and we follow strict guidelines before proceeding with this advance modality. We offer numerous other therapies for other conditions of the foot and ankle, and we urge you to check out our website regularly as we are constantly bringing our current and future patients up to date on the latest in the care of foot and ankle conditions.
Call us now:
(239) 430-3668 (FOOT)
Self Service (239) 420-7170